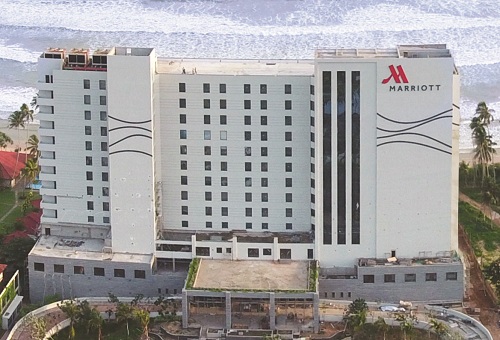 In 2008 the company ventured into hospitality with the purchase of the Ceylon Intercontinental (now Kingsbury) – a 250 key hotel located on 4.5 acres of central business district. The property was subsequently sold in 2011.
The company entered into a partnership with Marriott International to build a 198 Keys five star resort and spa in Weligama Bay, Sri Lanka , This property is expected to open in December 2016.
East West Properties PLC currently operates over 100,000 sqft of warehousing space and 30,000 sqft of commercial office space. The company has a long standing partnership with Ultratech Cement Company India leasing the real estate on which their 4x8000 ton cement silo and bagging plant our located.
The company currently owns and operates 32 apartments as services apartments at Crescat Residences located adjacent the Cinnamon Grand Hotel, Colombo premier five-star hotel. The apartments mix is made up of 1,2,3 bedroom properties and residences common facilities include a gym, spa and access to the food and beverage service of the Cinnamon Grand Hotel next door.
In 2012 the company ventured into rentable self-storage units and has over 10,000sqft of space consisting of units varying in size from 25sqft to 500sqft. The company also provides logistics services for the packing and moving of items into storage.
The company also owns 20 acres of prime lagoon front property in Pammunugan which is expected to be developed into luxury villa.